Cariboo Bonanza Resort
invites you to experience a relaxing holiday at our picturesque resort.

We're situated in one of Canada's finest hunting regions. You can stalk deer, moose, black bear, and grouse or hunt with your camera and watch how the eagles catch rainbow trout. Among the wonderful animals native to the region you may be privileged to see bald eagles, ospreys, beaver and much more.

Horse Lake offers some of the most exciting fly fishing and trolling in the Cariboo's.

It's a natural Paradise!

Three Species of fish can be caught on a fly,
Lake Trout up to 25lbs,
Rainbow up to 3lbs,
Kokanee as big as 4lbs!

Just think of hooking into beauties like these, while fishing from your Float Tube and the excitement of being pulled along the water while trying to land your catch.

Bring the kids for a vacation!

They will love our

large playground
zip line
sandbox
Fort with slide
swings
tider todder
bike obstacle course
badminton / volleyball net
basketball hub
waterslide
and of course, swimming in the crystal clear water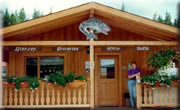 There is nothing like the look on a child's face with his catch of the day.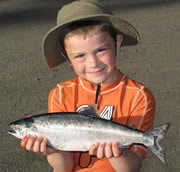 What a story he has to tell.